Feeling like you're on a treasure hunt?
If your TCL Roku TV remote has disappeared or isn't working properly, you're probably scratching your head wondering where the TV's power button is. There has to be one, right?
This reminds me of when my mom faced a similar predicament a couple of days ago. Her TCL Roku TV remote had given up the ghost, and she reached out to me, rather puzzled, asking if today's TVs, like her TCL Roku TV, still come with actual power buttons. She was clueless about how to switch it on without the remote.
I reassured her that it absolutely has one. But unlike the TVs of old, its location may not be as conspicuous. So I invested some time delving into the world of TCL Roku TVs. I scoured YouTube videos, pored over Reddit threads, and consulted numerous TCL Roku TV user manuals.
Here's what I discovered.
TCL Roku TVs do have a physical power button, like any other TV. Typically, it's located smack in the center of the TV's underside, right below the TCL logo. If it's not there, it's likely tucked away on the back of the TV (towards the right side).
So, there you have it. The two main locations you'll find the power button of a TCL Roku TV.
1. Middle underside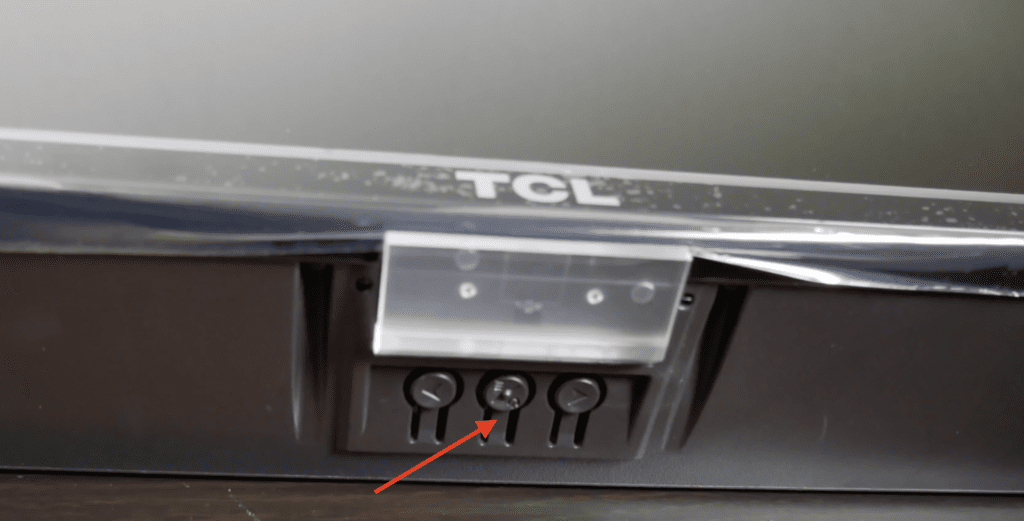 The first place to look is the middle part of your TCL Roku TV's underside.
You should find the power button nestled right under the TCL logo in the middle of the bottom bezel.
Go ahead and reach under the TCL logo and see if you can detect any buttons. If you don't feel anything right away, you may need to explore a bit further back.
Upon locating the button, give it a gentle press for a few seconds to power up your TCL Roku TV.
2. Right backside
If you're not finding the physical power button for your TCL Roku TV at the center bottom, you should check out the back of the TV.
Typically, TCL Roku TVs will have the power button situated on the right-hand side at the back (this is when you're facing the TV). It could be on its own or beneath a cluster of three other buttons.
In case the buttons at the back of your TCL Roku TV are not arranged vertically, you might find something called a jog controller. If that's what you're seeing, the power button is the one in the center.
But, if you're still not finding the power button at the back, your next stop should be the middle underside of the TV.
If you're still coming up empty in your quest for the power button, it might be time to check your TCL Roku TV's user instruction manual.
This manual should come with a helpful diagram in the first few pages showing all your TV's parts and buttons.
If you can't find your hardcopy manual, a quick Google search should do the trick. Just punch in your exact TCL Roku TV model along with the phrase "user manual."
The search results should guide you towards a digital version of your TV's user manual.
The answer to this lies with the consumers. TV makers aim to meet customer demands which, these days, focus on style and screen size.
Modern consumers crave sleek, elegant TVs that can blend seamlessly into their living rooms, bedrooms, or wherever they decide to set them up.
They're also all about the big screen life. Larger TV screens undeniably enhance the overall viewing experience.
To meet these desires, TVs now come with ultra-thin bezels — the frames that border the screen. With such slim bezels, there's just no room for a power button.
Now, bezels weren't always just for show. In the past, they were a necessity, housing electronic wiring and providing structural strength. They added an extra layer of protection against accidental bumps (which could save you from a broken TV screen!).
Yet, with time, slimmer became the trend, much like with smartphones.
(Note: If you look up images of old-fashioned TVs, you'll notice not only was the power button right up front, it was usually accompanied by a host of other buttons or dials!)
So, it's not about TV makers making life difficult by hiding the power button.
They're simply adapting to current consumer preferences, which lean towards almost bezel-less displays.
Well, if your remote's gone AWOL and you're not fond of using the physical power button all the time, there are alternative methods to power up your TCL Roku TV.
1. Download and use The Roku App
The best way to go about this is by downloading and using The Roku App. This clever app will turn your smartphone into a makeshift TCL Roku TV remote.
The Roku App is accessible on both the App Store and Google Play. Once you've installed it, launch the app and it will automatically begin searching for Roku devices.
Important note: Make sure your TCL Roku TV and smartphone are connected to the same Wi-Fi network. For the magic to happen, they need to be on the same wireless network. Otherwise, the pairing won't be successful.
Find your TCL Roku TV on the app and tap Remote at the bottom. Voila! Your smartphone is now your TV remote, ready to power on your TV, flip channels, and more.
2. Use gaming consoles
If your main concern is simply switching on your TCL Roku TV, your gaming consoles like PlayStation 4 & 5 or Nintendo Switch could be your saviors.
These consoles come with a neat feature: when you power them on, your TCL Roku TV will spring to life too.
It's called HDMI Device Link for PlayStation users and Match TV Power State for Nintendo Switch owners.
(Note: Bear in mind, these features will only do the job if you've activated them beforehand.)
To turn on HDMI Device Link for PlayStation users:

Go to Settings.
Scroll down to System.
Select HDMI.
Switch the HDMI Device Link toggle on.
To enable Match TV Power State for Nintendo Switch users:
Go to System Settings.
Scroll down to TV Output.
Turn Match TV Power State on.
3. Use your satellite or cable remote
There's also the possibility that your satellite or cable box remote could mimic some basic functions of your TCL Roku TV, once you've programmed it to do so.
Firstly, you'll need to identify the name of your cable or satellite service provider as well as your remote's model.
Typically, you'll find the model number either on the front or back of the remote. If it's not there, take a peek inside the battery compartment. If it's still playing hide and seek, you might want to reach out to your service provider.
Once you've got your service provider's name and remote model, refer to this table to find the specific code you'll need.
| | | |
| --- | --- | --- |
| Service provider | Remote model | Code for TCL Roku TVs |
| ATT Uverse | S10-S1, S-20/S-30 | 1346 |
| Bright House Cable | URC1056 | 1756 |
| Cablevision | UR2-CBL-CV04 | 031 |
| Charter | UR4U–MDVR–CHD2 | 11756 |
| Comcast | OnDemand DVR 3 Device | 11756 |
| Cox Communications | URC-8820-MOTO | 11756 |
| DirecTV | RC65 | 11756 |
| Dish Network | 21.1 IR/UHF | 535 |
| Onn | ONA12AV058 | 3851 |
| RCA/Voxx | RCRN03BR | 11756 |
| Time Warner | UR5U-8780L | 387 |
| TIVO | – | 0091 or 0366 |
| Verizon FIOS | VZ P265v3 RC | 180 |
| XFINITY | XR2, XR5, Voice Remote XR1 | 11756 |
Be aware though, only a few basic functions are usually programmable into your satellite or cable box remote. These often include the power, volume, and input buttons. On certain remotes, the functionality may extend to the play/pause, rewind/forward, and directional buttons.
Summing up
Much like any other TV, TCL Roku TVs do come with a physical power button.
It's typically positioned either in the middle of the TV's underside or at the back of the TV.
If you're struggling to find it in either of these locations, take a look at your TCL Roku TV's user manual. It should contain a diagram that maps out all the parts and buttons of your TV.
Alternatively, you can use The Roku App, gaming consoles, or even your satellite or cable box remote to boot up your TCL Roku TV.