When my Ring doorbell suddenly lost its connection, I didn't think it was a big deal.
I figured I'd just have to re-link it to the Wi-Fi via the app – a task that's typically as easy as pie.
But for some odd reason, it just wouldn't sync!
If you're anything like me (and tons of other folks out there), you've probably found yourself frantically searching Google for the easiest workaround (by "easy," I mean a solution that doesn't require any tinkering with your doorbell's hardware).
I totally get it, it's not just you finding this problem frustrating. It's a bit disappointing that this issue is so common.
However, when this happened with my Ring doorbell, I was relieved to find solutions readily available online.
So, let's not waste any more time and dive into the quick and easy fixes that you can do alone.
With this guide, you'll soon be bragging about how you got your Ring doorbell back online all by yourself!
The Clever Fix
Do a power cycle by unplugging the Wi-Fi router for 30 seconds and then plugging it back in. As for the Ring doorbell, remove the batteries (if it's battery-operated) or switch off the circuit breaker (if it's hardwired) for a few seconds.
Wait until both devices are fully powered up before checking if your Ring doorbell is back online.
A power cycle often resolves the issue immediately by refreshing the connection between the two devices.
If this doesn't work, it's time to put on your troubleshooting hat.
Let's dive in!
Why won't my Ring doorbell connect to Wi-Fi?
Technologies that rely on Wi-Fi aren't always perfect.
Smart home gadgets like Ring doorbells occasionally face connectivity hiccups.
Usually, it's a power interruption that causes your Ring doorbell to go offline, and a quick power cycle can fix it.
If there wasn't any power outage prior to your Ring doorbell losing its connection, other potential culprits could be:
Distance of the Ring doorbell from the Wi-Fi router
Compatibility of the Ring doorbell to the network settings
Crowded Wi-Fi channel
Changes in the network username and password
System glitches
In the most undesirable circumstances, your hardware might be the issue.
However, before you jump to this conclusion, it's recommended to consult with Ring's technical support team.
That way, you would know when it's time to give up on reviving your Ring doorbell.
Are you ready to get it back online? Let's tackle the fixes.
How to fix Ring doorbell not connecting to Wi-Fi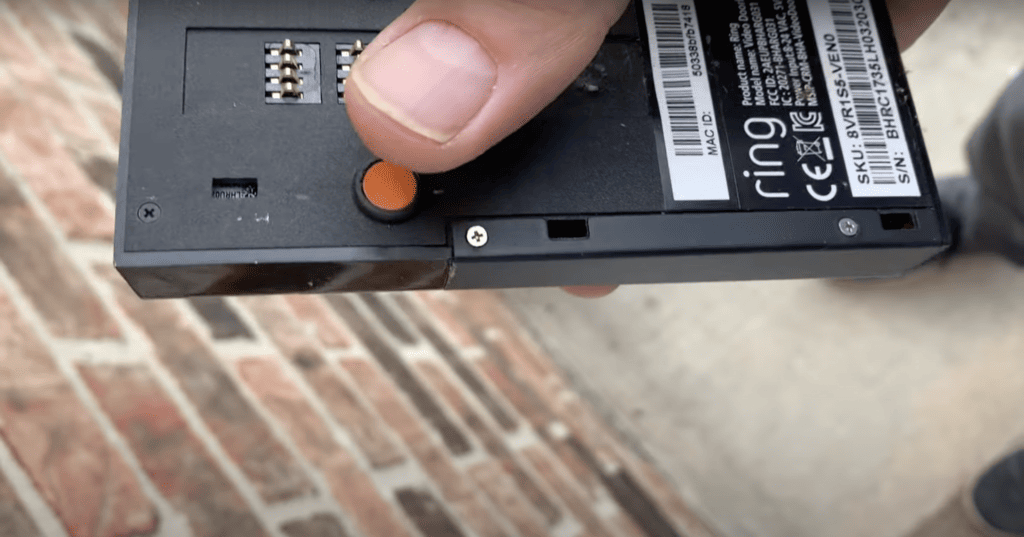 You'd be surprised how often the Ring doorbell fails to automatically reconnect after a power disruption.
If your Ring doorbell can't seem to reconnect to the Wi-Fi, try holding down the doorbell button for a few seconds.
This easy yet sometimes overlooked step can often jump-start the doorbell, making it a practical quick fix when your Ring doorbell loses its Wi-Fi connection.
Give it a shot!
2. Change the Wi-Fi name and password
Did you just change your network's name or password recently?
If so, it's highly likely this step could be your solution.
If your Ring doorbell was previously running smoothly but suddenly couldn't connect to Wi-Fi after you changed the network name or password, it could be throwing your Ring doorbell off, preventing it from linking up with the Wi-Fi.
Certain Ring devices may have trouble with Wi-Fi names or passwords that contain special characters, such as ampersands, dashes, or the pound symbol.
Stick with just numbers and letters in your Wi-Fi name or password.
If your network name or password contains any of these quirky characters, consider changing them to eliminate any special characters.
If your network name or password isn't the issue, let's proceed to the next solution.
3. Move the Ring doorbell and Wi-Fi router closer
Just because your Ring doorbell has been functioning perfectly at its current spot with the same Wi-Fi network, that doesn't guarantee it'll always do so.
The issue isn't always about the physical distance.
Walls, furniture, or electronic gadgets can create signal interference.
Over time, you might have moved furniture around, relocated devices, or even remodeled your home, transforming the signal landscape.
One way to check the signal strength is by looking at the Received Signal Strength Indicator (RSSI) for your Ring doorbell.
Here's how you can do that:
In the Ring app, select your Ring doorbell.
Click Device Health.
(-66 to -90 means bad internet connection, -65 to -41 is sufficient, -40 or lower means it
has a very strong signal.)
You could also try moving the Ring doorbell closer to the Wi-Fi router or the other way around, and observe if the connection comes back on.
If not, attempt reconnecting it manually with these steps:
Open the Ring app, then go to Settings > Devices > (select the Ring doorbell) > Device Health > Change Wi-Fi network.
Press the orange Setup button on the Ring doorbell.
Follow the prompts on the app to finish setting up the network.
Keep in mind, the sweet spot for the distance between the router and your Ring doorbell is 20-25 feet.
If distance turns out to be the hurdle, think about getting a Wi-Fi extender, a Chime Pro, or any device that can boost your Wi-Fi coverage.
4. Set the Wi-Fi router to 2.4 GHz and any channel from 1-11
When wrestling with network issues, it's always good to investigate your Wi-Fi network's settings.
This might sound like tech jargon, but bear with me.
I'll break it down to easy-to-grasp steps about how to adjust your router to the 2.4GHz Wi-Fi band and select a suitable channel.
Modern Wi-Fi routers are built to broadcast multiple channels on both 2.4 GHz and 5 GHz signals.
However, Ring devices can only latch onto channels 1-11 (like 1, 6, or 11) on a 2.4 GHz network. While some models can work on 2.4 or 5 GHz, most operate solely on 2.4 GHz.
If your Ring doorbell frequently loses Wi-Fi connection, consider enabling the 2.4 GHz network in your router's settings and ensure it's tuned to the proper channel.
But here's where it gets tricky.
How do we activate the 2.4 GHz network and verify the channel on our Wi-Fi router?
Sadly, there's no universal method for adjusting your router's settings since it varies across router models.
Refer to your router's manual for the proper procedure.
But here's a general idea of how to access your router's settings:
(You can find it on your router or in the documents that came with it.)
Log in with your username and password.
(These can also be found on the router's sticker or documents.)
Look for Wireless Settings or Advanced Settings.
Look for an option like "enable 2.4 GHz."
While you're at it, look for Channels.
(If it's set to 12 or 13, set it to 1,6, or 11 because they're the least crowded channels.)
If tweaking your network settings makes you nervous, feel free to skip this step and move to the next solution.
You can always get help from your internet service provider if necessary.
Why set it to channel 1-11 and 2.4 GHz?
Still unsure about tweaking your Wi-Fi settings?
Here's a straightforward explanation of how it could boost your Ring doorbell's performance.
Think of it as choosing a less busy road during peak traffic hours.
The more devices using Wi-Fi simultaneously, the more jam-packed the signal becomes. This traffic could potentially affect your Ring doorbell's operation.
So, naturally, you'd opt for a less saturated channel, which are generally channels 1, 6, or 11.
Regarding the 2.4 GHz, Ring has a reason for limiting their doorbells to 2.4 GHz.
The 2.4 GHz frequency offers a longer reach compared to 5 GHz, increasing the odds of reaching your Ring doorbell even if it's positioned far from the router.
5. Factory reset the Ring doorbell
A hard reset can often clear up most problems, like issues with motion detection, non-responsiveness, and of course, network troubles.
However, remember that a factory reset will revert your Ring doorbell to setup mode, which means you'll need to start the setup from scratch.
While setting up your device again might seem intimidating, keep in mind that you're more familiar with the device now and it should be quicker this time around.
To perform a factory reset on your Ring doorbell, locate the orange Setup button and hold it down for 10 seconds.
The light will blink for a few minutes, indicating the reset is underway. Once the light switches off, the reset is complete.
This remedy often works wonders.
If a factory reset still doesn't reconnect your doorbell to the Wi-Fi, your device might be the culprit.
Consider our final solution: 6. Reach out to Ring's technical support.
The Setup button's location depends on your model.
It's usually on the back of the device (so you'll need to remove the doorbell from its bracket) or beneath the camera hidden by a faceplate.
Refer to your Ring doorbell's manual to locate it accurately.
6. Contact Ring technical support
If all these tactics fall short, it's time to call in the pros.
Ring's helpline is available 24/7 at 1-800-656-1918, or you can chat with them daily from 5 AM to 9 PM MST.
If it turns out to be a problem that can't be fixed, you can request a replacement, especially if it's still under warranty.
Sometimes, Ring's tech support will suggest this after trying all other potential solutions to no avail.
Wrapping up
Network issues can be a real puzzle to solve.
It's tough to pinpoint if the problem lies with your internet connection or your device.
Regardless, it's always a good idea to start with a power cycle.
If that doesn't fix it, at least we're working with a fresh network and device.
Here's a recap of the solutions you can try:
Long press the doorbell button.
Change the Wi-Fi name and password.
Move the Ring doorbell and Wi-Fi router closer.
Set the Wi-Fi router to 2.4 GHz and any channel from 1-11.
Factory reset the Ring doorbell.
Contact Ring technical support.
Hopefully, one of these solutions helped your Ring doorbell spring back into action!
Got another tech dilemma? Check CleverFixes.com for more troubleshooting tips.
More from CleverFixes