Without a Ring account, your Ring camera isn't exactly much use.
Indeed, without an account, the whole Ring system becomes practically redundant, as it's your gateway to view your camera and adjust its settings.
But don't sweat it if you're unsure about where, when, or how to log into your Ring account. It's not as daunting as it may seem!
The Clever Fix
To log in to your Ring account, go to the Ring website or open your Ring app, and then enter your username and password in their respective fields.
My personal advice? Opt for the app.
It's just a touch away anytime you need to check on your Ring cameras. It's a tad more convenient than having to open a browser and search for the Ring website.
But hold on, we're not stopping at just telling you how to log in.
Whether you're in the midst of setting up your Ring camera or you've been a user for a while, this guide aims to be a trusty friend both now and down the road.
Requirements for Ring login
This part's for the newbies who've just unboxed their Ring package and are yet to get started.
In addition to a reliable internet connection, you'll need the Ring app and a Ring account.
If you don't have it yet, you can download the Ring app from the Play Store (Android) or App Store (iOS).
To create a Ring account, here's what you need to do:
Go to the Ring website or open your Ring app.
Tap Create Account.
Enter your first and last name, and select your current country location. Then click Continue.
Input and confirm your email address.
Follow the on-screen instructions to finish setting up your Ring account.
The great news is, once you're logged into your Ring app, you stay logged in unless you decide to log out.
This is super convenient if you're prone to forgetting your login details.
However, some users have reportedly had problems logging back in after being mysteriously logged out of their accounts – we'll tackle this hiccup in the following section.
Ring login issues
Challenges may arise when you're abruptly logged out of your Ring account.
When you attempt to log back in, you may run into error notifications or be informed that your login details are incorrect (despite you being certain they're right), instead of getting straight to the Ring homepage.
In some instances, users have thought they've successfully logged back in, only to discover they keep getting booted out of the Ring app.
What might be causing this?
It could be down to a system outage, a glitch, Ring's own security protocols, or something as mundane as punching in the wrong password.
This can occur whether you're logging in via the app or the website.
If you've had any of these experiences, don't despair.
On the upside, you can take comfort in knowing these are recognized errors and solutions are readily available.
Do this before looking for a solution
If you've been unexpectedly logged out of your account or you're caught in an unending cycle of being unable to bypass the login page, your first move should be to see if it's a widespread problem.
This can be done with a simple click.
Ring recommends checking this page to see if the Ring app, website, live calls, emails, etc., are up and running or experiencing an outage.
The site will let you know if Ring's services are functioning normally or experiencing downtime.
Make sure to bookmark the linked page to keep track of Ring's status updates with ease.
If there's no hiccup with Ring, but you're still struggling to log in, it's time to spring into troubleshooting mode.
Be a good scout and bookmark this article or CleverFixes.com to your favorites, so our login problem solutions are just a click away when you need them.
Ring login issues solutions
1. Turn off your VPN
If you're using a VPN and getting denied access to Ring with error messages related to connectivity or operational issues, you could be left thinking, "What's the deal?"
Just keep in mind, Ring doesn't play nice with VPNs when trying to access the app or website for security reasons.
With VPN turned on, you might encounter errors like "406 Not Accepted" on the website or "Your Internet connection is not currently working. Please try again" on the Ring app.
The way to go? Disable the VPN when opening Ring or ask your VPN provider to sideline Ring traffic from the VPN.
That's the only way you can access the Ring website or app again.
2. Uninstall then reinstall the Ring app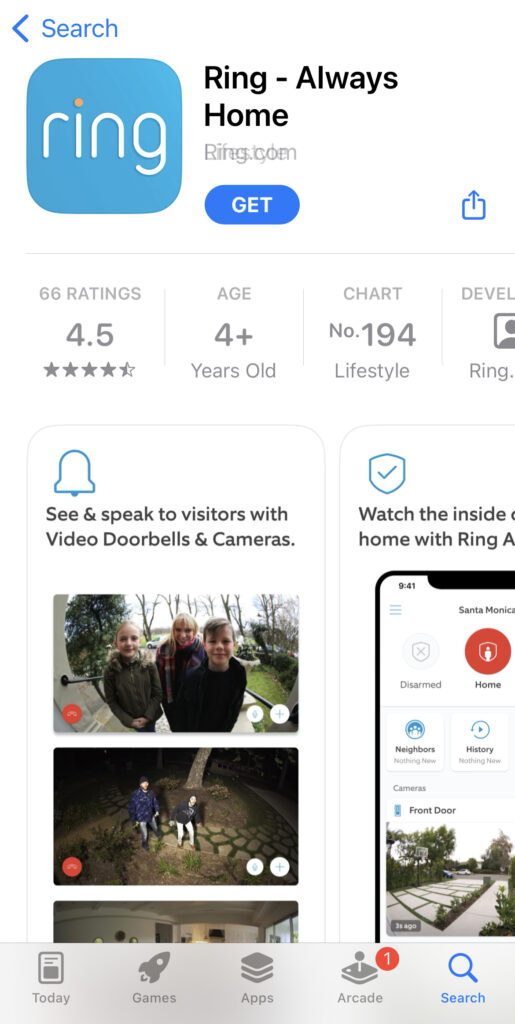 If you're met with a barrier like "An error occurred trying to perform the operation. Try again later" when trying to log in, it might seem like a big deal to fix. But you've got this.
The solution is simple: uninstall and reinstall the Ring app.
It is recommended to restart your phone after uninstalling the Ring app and before installing it again to clear the app cache and give it a fresh start.
3. Change network connection
The "Invalid email or password" message usually pops up in two cases: either you've typed in inaccurate login details, or a system glitch has materialized.
Naturally, make sure your email and password are spot on.
Double-check your capitalization and small letters.
If you're sure as can be that your Ring login details are right, your best bet is to switch your network connection.
Changing the network connection means swapping from Wi-Fi to cellular data, or the other way around, before logging in.
If you hit a wall logging in via Wi-Fi, give cellular data a whirl. If you're on cellular data, switch to Wi-Fi.
It's a swift solution that's done in under a minute.
4. Change the password
It's completely normal if you've forgotten your login details.
It happens to everyone, particularly if you've been logged in since the get-go and haven't needed to re-enter your details.
Ring suggests using a basic temporary password, like ring1234 or 12345678, to see if that whisks you past the login page.
To request for a change of password, follow these steps:
On the Ring app or Ring website login page, click Forgot your Password?
Enter your email address, and wait for a password reset email.
Not receiving a password reset email?
This has been a known problem when users request a password reset.
If Ring's email isn't showing up in your inbox, despite the correct email being used, you can try the following:
Check the spam folder.
Search your inbox for the subject line "Set Up Your New Password Now."
Check if your email storage is full (because you will not receive new emails if you're out of storage).
If Ring's emails still don't come through, consider reaching out to your email provider or Ring's customer support.
5. Disable your ad-blocker app
Again, if you find that you're persistently being logged out of your account, something might be blocking you from staying logged in.
One possible culprit is an ad-blocker app.
Ad-blocking apps and the Ring app don't always get along.
The ad-blocking app messes with Ring's servers and app in its bid to get rid of ads. Ring sees this meddling as a security breach and cuts the connection.
If you're using an ad-blocking app, particularly AdGuard, this could be the reason for frequent logouts.
For some, this can happen multiple times a day. Super frustrating!
To turn off the ad-blocking function on the Ring app, launch the ad-blocker app, tap Settings, and then disable the Ring app.
6. Contact Ring technical support
If all else fails and you're still unable to log in even after resetting your password, it's time to get in touch with Ring's technical support.
Sadly, if the app or website doesn't accept your new login details, there's no known workaround. You'll need to reach out to Ring for help.
Give them a ring at 1-800-656-1918 any time, or chat with them from 5 AM to 9 PM MST.
How many people can access my Ring account?
Ring allows an unlimited number of Shared Users for Ring Video Doorbells, Security Cameras, and Ring Alarm.
Shared Users can review, save, and share videos from the Ring devices without needing the account owner's login details. They just can't access the device's settings.
If you want a family member to have the same level of access as you, you can share your login credentials so they can sign in from their device (since there's no limit on the number of devices you can sign into your account.)
But bear in mind, sharing sensitive information always carries some risk.
Wrapping up
If it's just logging in, you can do that via the Ring website or Ring app.
All you need is to input your email address and password, and you're in!
As time goes on, you might run into issues logging into your account. If you find yourself in a pickle with your Ring login, here are the solutions to try:
Turn off your VPN.
Uninstall then reinstall the Ring app.
Change the network connection.
Change the password.
Disable the ad-blocker app.
Contact technical support.
Here's hoping your Ring app experience sails smoothly.
Consider us your go-to site for troubleshooting needs, so make sure to bookmark us!
More from CleverFixes